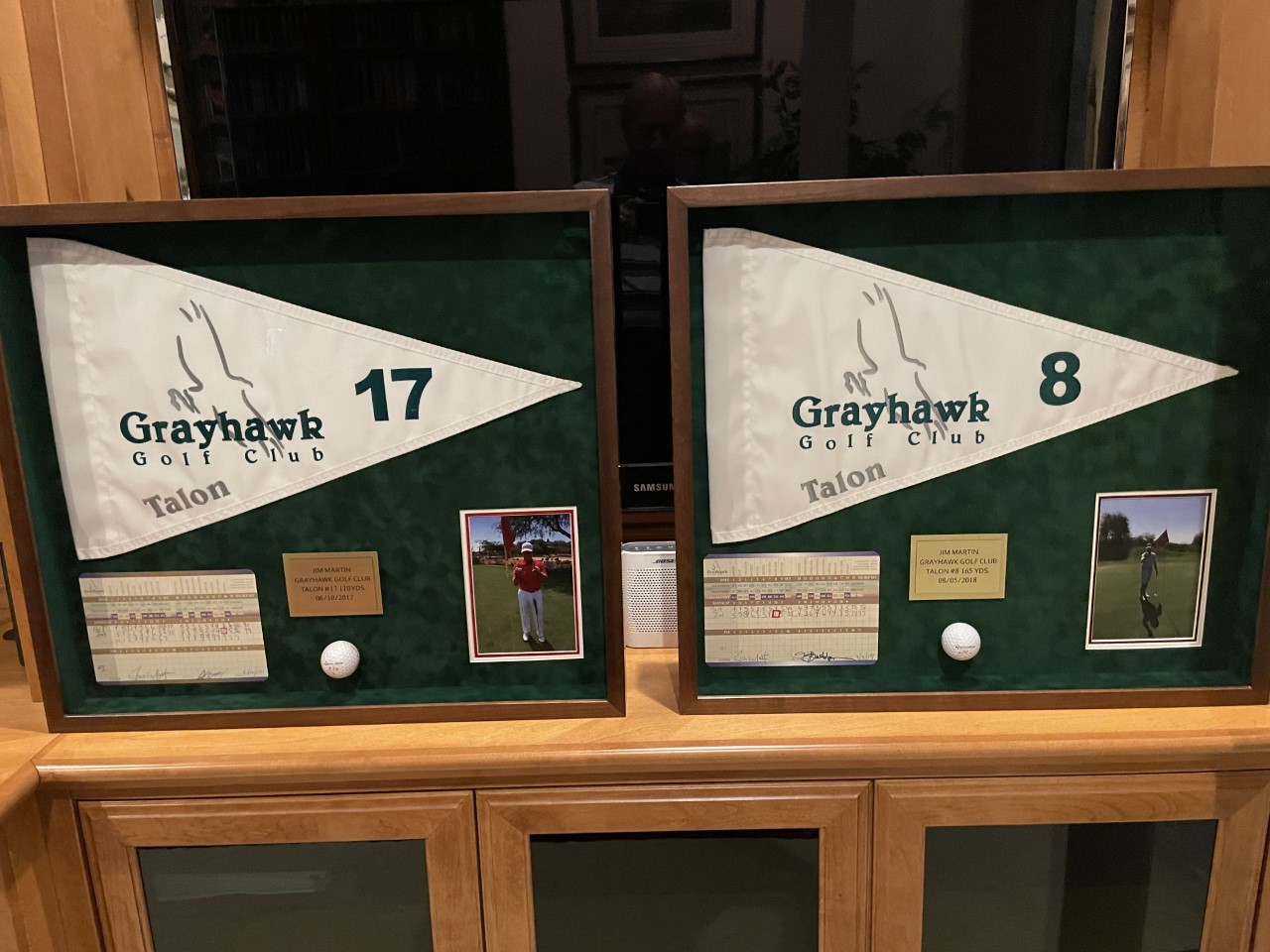 I had kept the attested scorecards. One signed by my seven-year Saturday golfing buddy Art Tregenza, and the other by Bart Bartholomew, who's been in my Sunday group for almost four years. The photos were shot by each of them as I picked up the golf ball, and they were stored in my iCloud account. Hadn't even seen them in years. The pin flags and two golf balls were rolled up in the back of a drawer in my home office. I kept thinking I'll get to them someday.
Well, I was looking for something in the drawer a couple of weeks ago and pulled them out and onto the floor, and my wife walked in and said, "Are you ever going to do anything with those or let them collect dust?" Robert Sluznis, a great friend of Communication Links who has done some incredible shadow box work for our clients over the years, was in our office a few weeks ago delivering some framed photos for Dave, so I asked Robert if he had time to chat about my personal project. 
Considering the quality of work he's done for us and our clients over the last couple of decades, I thought I'd get his take. We laid out the components on the floor of my office for one of the holes-in-one (pin flag, score card, golf ball, commemorative photo taken by my golf partners, and the idea of a brass plaque), and he looked at it for a moment and said, "I've got it. I know what you want." He knew exactly how a golfer wants to memorialize one of golf's great thrills…a hole-in-one. The fact I had two of them in successive years on Grayhawk's Talon Course on two separate par 3s (#8 and #17) and they were just sitting in a drawer, I didn't haggle over price. It seemed fair for the incredible quality of his work.
I'm so glad Robert helped memorialize these two holes-in-one for me. I did have two beautiful old, framed and matted prints of 19th century Scottish golfers hanging in my home office. I have to figure out where to put those because you KNOW which ones I decided to hang on the wall!