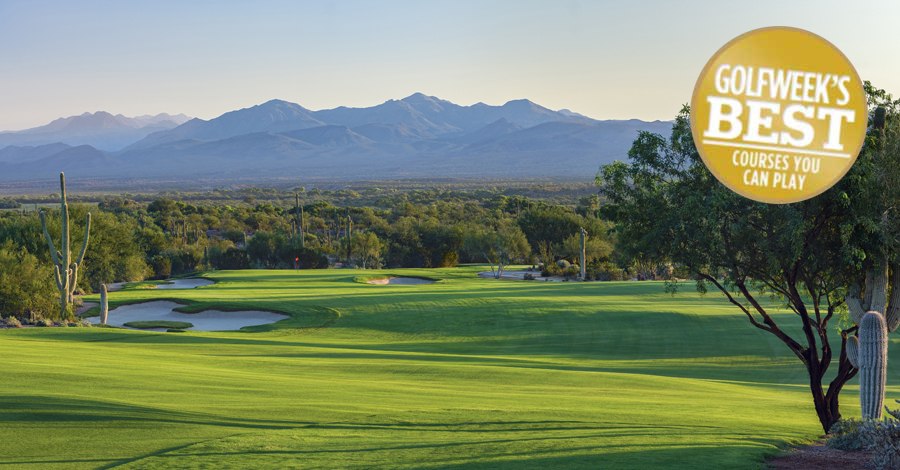 Golfweek 15 of 16 and four in a row for PHOENIX magazine
Did somebody say repeat? What's the word for 15-peat? We-Ko-Pa Golf Club just added three new awards to its accolades portfolio. ​​The Saguaro Course was once again recognized by Golfweek as the No. 1 public golf course in Arizona in its annual "Best Courses You Can Play," state by state ranking. The Saguaro Course, designed by world-renowned architectural duo Bill Coore and Ben Crenshaw, has held the honor for 15 of the last 16 years. Also, We-Ko-Pa Golf Club ranked number one in PHOENIX magazine's annual "Best of the Valley" awards. This is the fourth year in a row it won this prestigious award. And Saguaro once again cracked Golfweek's list of the "Top 100 Best Courses You Can Play in the U.S.," coming in at No. 78 – the highest ranked Arizona course.
Iconic Red Mountain frames the approaches to both Cholla's par-5 2nd hole (L) and Saguaro' par-5 8th hole (R).
So, what goes into perennial top-tier rankings from top-tier golf publications and bigtime local lifestyle pubs? There can't be that big of a difference between No. 1 and No. 2 in the golf mecca of the Western United States, right? There is a difference, but it's more than just the golf courses and the "walk in the park" test cited by Golfweek raters. First, it's about the attention to detail from the agronomy staff. Second, third, fourth and fifth:  doing the little things right. The sixth is just allowing the big things take care of themselves.
"With the adjacent casino and really nothing else around, We-Ko-Pa has an incredibly unique position in the marketplace," said Jonathan Crist, CL's marketing director. "But more than that, they focus on getting better every single day. They're always asking things like, 'Can this sign be better? Can the view from this location on 12 be better? Is our rater program effective? Are there undervalued markets we can test or keywords we can try? Can we be more efficient?' When you improve a little every day, it adds up over time. That's how you keep from resting on your proverbial laurels, and those guys have no interest in resting."
Saguaro Course, No. 14
When you think back to the golf landscape 20 years ago when We-Ko-Pa first opened its doors to players on the Scott Miller-designed Cholla Course, it was yet another great track in the East Valley – hard to make it stand out with so many truly exceptional options (and friends) in the area. Over the course of two decades, however, with another course, Saguaro, and hints of a third, you'd be hard pressed to find anyone, anywhere who calls themselves a player and doesn't know about We-Ko-Pa.
Communication Links would like to issue a formal and sincere congratulations to We-Ko-Pa Golf Club and its incredible representatives who treat the place like family. And we're proud to be a small part of their wonderful success.