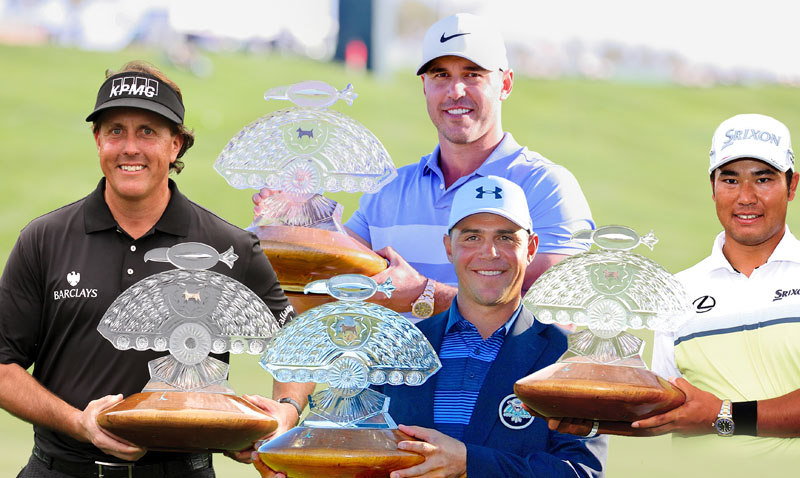 "The People's Open" aptly fits the Waste Management Phoenix Open, by far the most-attended golf tournament. And despite the fact that many among the vast "galleries" routinely see about the same amount of golf as they would at an actual art show, the tournament continues to be a "major" draw for fans and TOUR players alike.
Including repeats, seven of the last nine WM Phoenix Open champions also won majors. Brooks Koepka racked up four sandwiched between his two WM Phoenix Open wins, 2021 and 2015. The 2020 WM Phoenix Open champion, Webb Simpson, topped the field at The Olympic Club to win the 2012 U.S. Open. The 2018 WM Phoenix Open champion, Gary Woodland, prevailed at Pebble in the 2019 U.S. Open, thanks in part to inspiration from his par-saving pal Amy Bockerstette.
"I used your positive energy," he said to Amy on facetime shortly after the championship.
Hideki Matsuyama won the 2021 Masters, becoming the first Japanese man to earn a major. In 2017 he nearly tied a WM Phoenix Open record, set the King himself, for three-consecutive championships.
Also this year, Phil Mickelson earned a sixth major. His roots run deep at the WM Phoenix Open; the perennial crowd favorite has been riling up the ASU fan delegation since 1992, and on three occasions (2013, 2005 and 1996) rewarded them with wins.
Like Mickelson, Mark Calcavecchia also captured three WM Phoenix Open championships – 1989, 1992 and 2001. They both hit the trifecta in the modern era, while Arnold Palmer and Gene Littler did the same in the '50s-'60s. In terms of majors, Calcavecchia won the 1989 Open championship at Royal Troon, joining fellow Open champion Tom Lehman who won it in 1996 at Royal Lytham and St. Annes on the way to his 2000 WM Phoenix Open victory.
A Rich History of Winners at the WM Phoenix Open
World Golf Hall of Fame inductee, Vijay Singh won three majors (1998, 2000 and 2004) to go along with his two WM Phoenix Open wins (2003 and 1995). Steve Jones, 1997 WMPO champion, and Lee Janzen, 1993 WMPO champion, also both hold U.S. Open championships. Jones won his improbable major at Oakland Hills prior to his WMPO victory, and Janzen's first U.S. Open came at Baltusrol in 1993, the same year as his WM Phoenix Open win, with his second following 15 years later at Olympic.
Traveling back to the beginning of competition at TPC Scottsdale, Sandy Lyle won the WM Phoenix Open in 1988, picked up a green jacket three months later and added it to his collection, which already included the Claret Jub gained in 1985 at St. George's. Finally, Paul Azinger captured the first WM Phoenix Open contested at TPC Scottsdale, 1987, before his 1993 PGA Championship win at Inverness.
The list continues pre-TPC Scottsdale to include '86 Hal Sutton, '82 Lanny Wadkins, '81 David Graham, '79 Ben Crenshaw, '77 Jerry Pate, and '74-'75 Johnny Miller in the 1980s and 1970s. The 1960s and 1950s featured legends such as '64 Jack Nicklaus, '61-'63 Arnold Palmer, '58 Ken Venturi and '57 Billy Casper, not to mention'46-'47 Ben Hogan and '45 Byron Nelson in the 1940s, as well as a few others not listed.
There's no Super Bowl in golf; instead, the majors have served as the ultimate measure of greatness. Some consider the Players Championship as the fifth, and with the rise of the FedExCup (Mickelson 2009, Singh 2008), there's definitely more than just four ways to make a big impact in men's professional golf. Given the game's firm ties to tradition, the complexion of the zenith of golf is not likely to change much. Until then, the Waste Management Phoenix Open is proud to be known as "The People's Open."