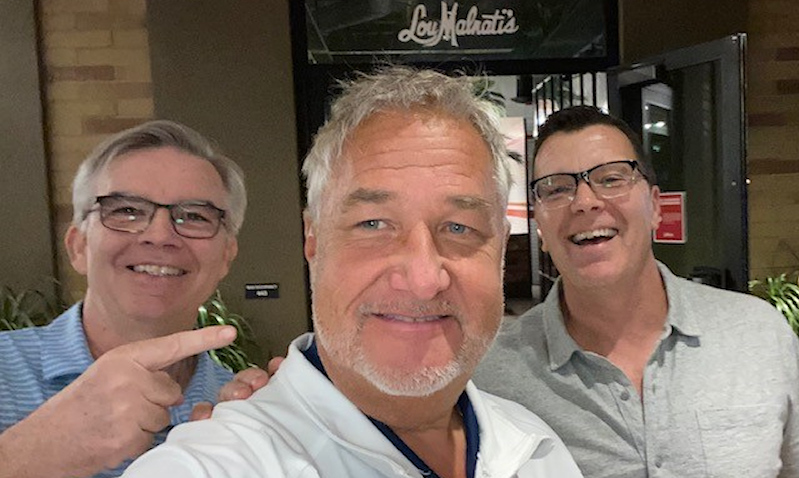 Last week, my old friend Michael Patrick Shiels, host of Michigan's Big Show, the state's largest news/talk program, came through Scottsdale on his cross-country "Sea-to-Shining-Sea" Tour. I, along with our mutual pal Scottsdale-based travel writer Tom Mackin, met him for dinner at one of his favorite restaurants, Lou Malnati's Pizzeria.
Lou's is a Chicago icon that recently began operations in the Valley of the Sun. The restaurant specializes in Chicago's trademark deep-dish pizza. This of course didn't sit well with Mr. Mackin – The Pride of Bayonne, New Jersey. Words were exchanged, and suddenly I found myself embroiled in The Great Pizza Debate of 2021.
As a third generation Arizonan, both sides quickly concluded I knew nothing about pizza and elected me the debate's moderator. For the contest, we were sequestered in a private dining room at Lou's. The opening scene from The Untouchables momentarily flashed through my mind. However, I was not intimidated, yet. That came when Mr. Shiels assigned a proxy to represent Chicago. His second was Mike Sterner, District Manager for Lou Malnati's. I knew then, Mr. Mackin was in trouble. And, likely so was I should I make the wrong decision.
The full debate is available below. However, for those eagerly awaiting my decision (Love you, mom), jump below the embedded audio player.
Always the gentleman, Mr. Shiels suggested Mr. Mackin kick off the fracas. Unaccustomed to such sportsmanship, the gesture clearly caught the Bayonne native and former Jersey Shore resident flatfooted. His argument stumbled out of the gate and never really recovered. Its central tenant being one could FOLD East Coast pizza and consume it without utensils.
Underwhelmed, Mr. Sterner paid no mind to Mr. Mackin's effort. Instead, he charged headlong into a description of The Malnati Chicago Classic. The fresh mozzarella was sourced directly from a family farm in Wisconsin. The exceptional sauce balanced perfectly against the spiced sausage sitting atop a delicious buttery crust. The Malnati pizza was a true meal, not a snack for sidewalk eating. It required a fork AND a knife. My mouth watered. A tear glimmered on my cheek. Down goes Mackin! I had my winner. Sorry New York/New Jersey…better luck next time.