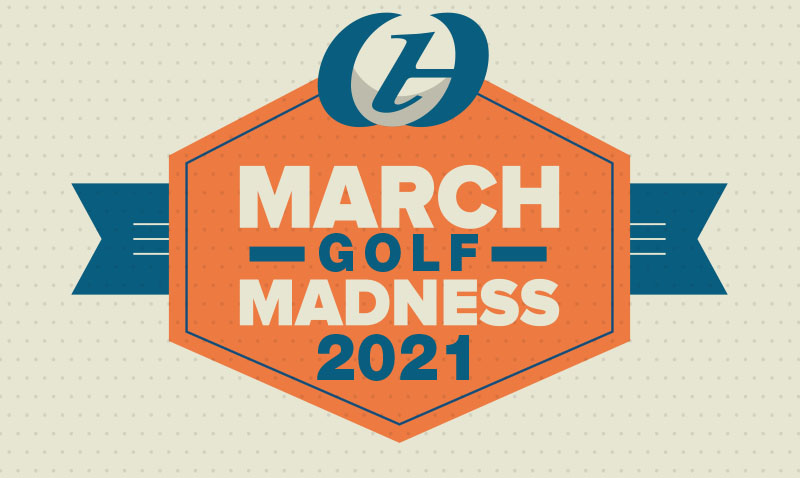 March Madness is upon us! All of us in the sports world are tickled to see our brackets back up on the bulletin board after a year without the NCAA's exciting tournament. The 2021 March matchups also are another step towards butts-in-seats sporting events we all so desperately want to attend again. Thank God. Now, Communication Links isn't a basketball firm, but we do have a relationship with the NCAA. After all, Grayhawk Golf Club will play host to the NCAA Men's and Women's Golf Championships this summer and we have more than a few College Football fans and former NCAA athletes here at CommLinks headquarters. So, in that vein, we decided to have a little fun with our brackets this year. We still hosted our $20-buy-in winner-take-all CL Bracket Buster, but we also created a new bracket field of our own – one pitting our favorite things about the game of golf against each other for a chance at Cinderella-story glory.
There were some incredible bracket busters in our road to #1, and even some of CL's "wizened" (and ertswhile wise) veteran golfers didn't see these coming. Click the button below to download and follow what happened.
Bracket Summary
In only the second 16-1 upset of all time, the good ol' pre-round breakfast sandwich bested the U.S. Open in the opening round of this year's tournament. Experts pointed to the USGA's perennial mishandling of course conditions as the main reason for the shocking first-round loss. But, then again, a solid golf course breakfast sandwich was significantly underrated this year, and many thought their 16th seed was due to a lack of their star center who was sidelined with injury most of the season.
The mid-9 beverage cart visit made their first trip to the sweet-16 in 2021, besting "driving a par-4" in the opening round and then embarrassing a "jarred approach shot" in second-round action. Ultimately, the "WM Phoenix Open CL Account Team" – who made their second-straight national championship bid – was too talented and well coached for the bev cart to handle.
Experts started to notice an F&B theme when the scrappy underdog "hot dog at the turn" bested the MASTERS in buzzer-beater fashion and the 19th hole made only their second elite-8 game in school history. It's worth noting those same experts identified the 19th hole as the team with the easiest path to the title game based on initial seeding.
This year's final four saw some familiar faces, with the "loudest hole in golf" taking on the "WMPO Account team" and the ever-elusive hole in one taking on "attending the WMPO in style." Ultimately, carding an ace came out on top. Many CommLinks team members have an ace to their name after playing for the better part of 30 years. Some don't. But we think we can all agree pulling the ball out of the cup and writing "1" on the scorecard is just about the coolest thing in all of golf. Especially when your friends are there to see it. But on the other hand, buying drinks for the whole bar is pretty expensive.