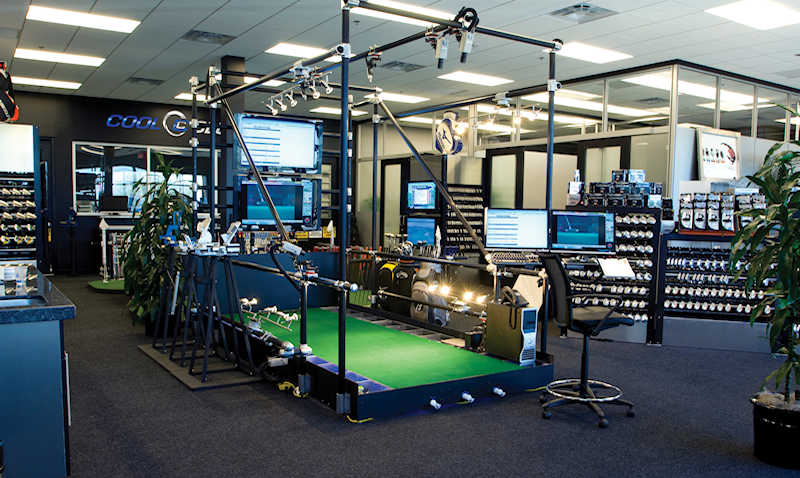 Let's be honest, golf isn't easy. And, no matter how good you may (or may not) be, everyone wants to improve. Usually swing changes take time and gains come slowly. However, according to our friends at Cool Clubs – the world leader in custom clubfitting technology – sometimes improvement can come quickly and easily. At least that's what I experienced during a putter fitting at their headquarters in Scottsdale.
"We can easily correct a number of common problems in a single putter fitting," said John Singletary, a Cool Clubs master fitter. "Usually, they fall into three categories: allignment/posture, loft/lie and stroke path. If you correct just one of those issues, you're going to make more putts."
The first step is to correct alignment and posture, according to Singletary. He said, "If you're not aimed correctly, or if your posture doesn't allow you to make a fluid stroke on the greens, you're not going to be able to produce a repeatable pass at the ball." The correct alignment and posture is different for each player, but there are clear rules for more consistency which can be addressed in a single fitting.
Next up is loft and lie. "This is easily the most important issue we see during a putter fitting," continued Singletary. "First, we measure the loft, lie, weight and length of their current putter in order to achieve a baseline. Then we have them hit a few putts and ask them some questions. More often than not, a player will think they're completely flat at address before looking at the camera. They then realize their toe is up four or five degrees. It's no wonder they yank their putts!"
What about the third category: stroke path? Great golf swings come in all shapes in sizes, and for most amateurs, trying to replicate the golf swing of the PGA TOUR's star players will leave them well short of the mark. However, that's not the case with the putter stroke. Almost every putting stroke used by the top-100 players in the world has the exact same path and impact position – depending on the type of putter they use – mallet, blade, traditional.
The Goal? Gain Confidence and Sink More Putts
At the end of the day the type of putter and your most consistent putting stroke is dependent on one thing above all else: are you comfortable? If you're not comfortable over the ball or you don't like the look of your putter, you're simply not going to putt well. But with a few easy changes to your setup and a loft/lie adjustment to your current putter will bring quick comfort and a more consistent stroke in your very next round.
Not all putter fittings are created equal. Instead of pressuring you into the most expensive off-the-rack putters, our friends at Cool Clubs use industry-leading proprietary software in their world-class putting studio to ensure you have the exact fit for your game. The right putter might be your current putter that just needs a few adjustments, or it might be time for a change. Either way, a Cool Clubs putter fitting is an absolute must and the quickest way to better scores.
To book a fitting at Cool Clubs, visit their website at CoolClubs.com