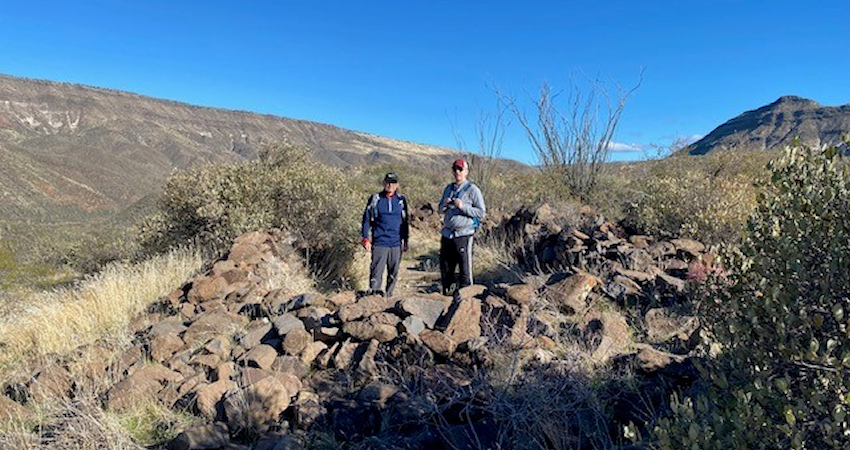 More Than Just Golf at Communication Links
Contrary to what my wife believes, the CommLinks team has interests beyond golf. Take this past weekend for example. Friend and Scottsdale-based writer Tom Mackin joined me for an adventure (somewhat) worthy of Indiana Jones.
After reading about a collection of nearby Hohokam ruins in an old book, he and I set off with a fellow adventurer to find them for ourselves. Unfortunately for Tom, I was elected the group's pathfinder. I found a path alright, but it didn't quite lead where we needed it to go. Undaunted, we bushwhacked our way up the side of the short mesa (300-foot climb) between Cave Creek and the mouth of Chalk Canyon in search of the ruins.
Battling catclaw and prickly pear, we were finally rewarded, spying a large boulder covered in ancient etchings of antelope, deer, and perhaps a very malnourished coyote. This, we decided, was a clue. Walking north along the edge of the mesa, we found more petroglyphs and dozens of bits of broken pottery. Then after pushing through a copse of juniper, we stumbled over a crumbling rock wall, and there before us, were the ruins.
A Hilltop with Views, Water and Scenery
According to the guidebook, this hilltop settlement was used by the Hohokam People. They are believed to have lived in Arizona between 300 and 1500CE, and their descendants are thought to be the Akimel O'odham (Pima) and Tohono O'odham (Papago) people of today.
This particular site likely was established around 1200CE. It had the remains of an exterior wall along three sides with the mesa's cliff protecting its western boundary. Inside were more than a dozen small dwellings. The largest had what appeared to be a stone fireplace. In the courtyard was a large metate (grindstone) that once had been used to grind mesquite beans into flour for cooking. With its commanding views, nearby water and beautiful scenery, I couldn't imagine a better location.
I wonder if the Hohokam ever played golf…