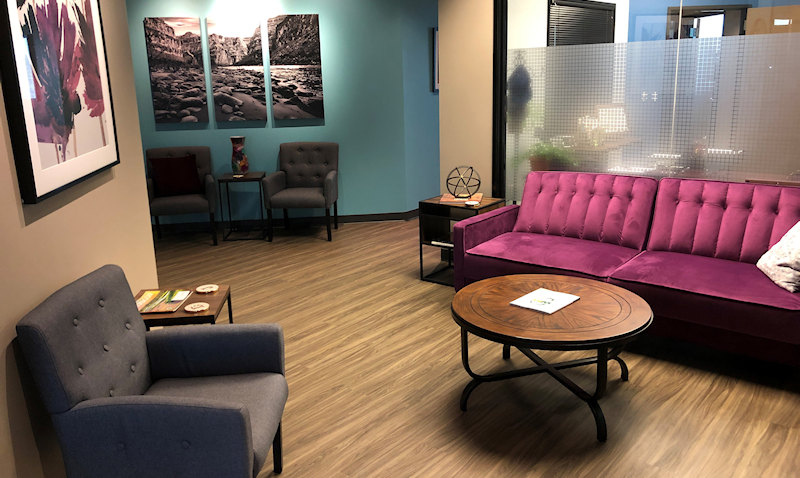 The move was supposed to be so simple. The CommLinks team was only relocating a few miles north up the 101, and this would be a great opportunity to clear out the clutter and really keep things simple. After purging ourselves of outdated "collectibles" over our 30-year history, someone suggested a few members of the crew needed new desks. That seemed easy enough. Wayfair, Ikea, whatever. Then a new couch for the lobby was in order. The old "pleather" sofa was really falling apart. Then someone thought new pictures or art for the office would make things really pop. We'd been riding the same golf course pictures for about 25 years, and pretty much everyone was tired of them. After that, things spiraled.
Before anyone realized what was happening, Mike and Dave had given Andrea a bump on her corporate card with instructions to "make it nice." As the agency's creative director, her decorator gene runs deep. Soon there were color swatches taped to all of the new office walls, urgent agency-wide emails requesting comments on classic travel posters, and somehow she convinced me to back her play when the purple couch was delivered to the lobby. There are at least 50 Shades of Purple from African Violet to Ripe Plum. But, hey, purple is purple and you won't forget it.
Once the movers had left and the dust settled, it surprised absolutely no one that Andrea had done another fantastic job, creating a space that is welcoming, creatively stimulating and comfortable. The elegant new hallways reflect each person's inner explorer and personal history.
We've even made a bit of a game out of the new decor. Come for a visit and see if you can guess where each of us is from, and where in the world each of us has visited over the years. You can also try out the new couch. Maybe take a selfie sitting on it. Heck, it might even go viral! #purplecouch