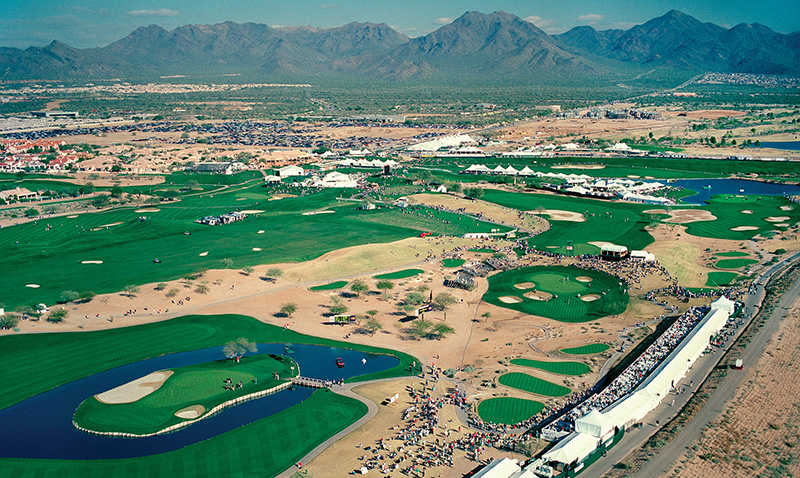 My first Phoenix Open as a Thunderbird seems like a lifetime ago. We celebrated my daughter's first birthday there in 1998 with melting ice cream and cake at the House and Grounds trailer on the 18th fairway. Later that day, we posed for pictures in front of the colossal leaderboard where my pals gleefully erected "Happy 1st Birthday, Kendall" in 2-foot-tall letters. One year later, we celebrated my son's 1-month-old birthday at The Open (and his sister's second birthday) to the same fanfare. Neither have missed one since – until now.
Twenty two years and $122 million to local charities later, we face an Open unlike anything any of us could have imagined. But the Greatest Show on Grass goes on. And we'll crown an incredible champion on Feb. 7 like we have 85 times before. But it'll look and feel differently than ever, that's for sure. We all know what the last year has been like. Dare I say 'unprecedented times?' No, I dare not! Lest I get laughed out of town by a staff made up of copywriters. I think I'm safe in saying, however, that we've all been through an awful lot. Most of us are pretty fortunate. But millions – yes, millions – are not. On behalf of 300-plus Thunderbirds who work really hard at raising families, running businesses, building golf tournaments and raising millions of dollars for those in need, we're just extremely thankful we can welcome a smattering of golf purists to TPC Scottsdale in a few days for the WM Phoenix Open.
I call those coming this year 'purists' as I've got to believe that this year, the nearly 5,000 or so patrons a day watching the Open, will actually be there to WATCH golf. If you aren't one of the lucky few to have snagged tickets (and both of my kids fall into that 'unlucky' category, unfortunately), be sure to tune into either Golf Channel or NBC TV12, Feb. 3-7.
Yup. The show goes on. The Greatest Show. We'll still put on the best event on the PGA TOUR. We'll still help out a ton of children and families who need a leg up. And we'll still have a bunch of fun doing it. Let's all pray for a safer, healthier, happier new year.
If you'd like to learn more about this year's Waste Management Phoenix Open, the People's Open, please visit the website.