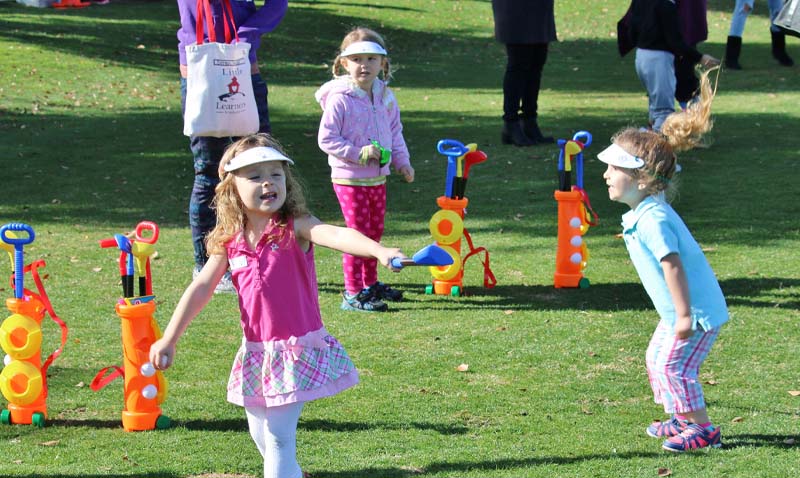 Kids are made to move. Their little plastic bodies bend and bounce with the natural ease of childhood, the ideal time for athletics of all sorts. Of them, golf certainly fits the refrain "start them while they're young." For the 33rd year, the Itty Bitty Open offers wee hackers the opportunity to tee off, most, for the first time.
"Itty Bitty Open is a great way for parents to introduce their children to the game of golf," said Scott McNevin, Executive Director of the Junior Golf Association of Arizona (JGAA). "Over the past several years, we've had parents tell us they attended the Itty Bitty Open decades ago, and they're now excited to bring their kids. It's very cool to be a part of that."
The 2021 event is set for January 16, 2021 at 10 Valley locations. It's free for all kids age 3-5 years old, with three times per location (9, 10 and 11 am) for juniors and their parents to learn basic golf skills from qualified PGA and LPGA professionals. Kids participate in a clinic and fun-filled, non-competitive golf games. Each golfer receives a set of plastic clubs, balls, bag, visor and an adult "caddie" must accompany each golfer.
A special prize is awarded to the "Best Dressed Golfer and Caddie Team." Anything goes: classic or contemporary golf fashion, any unique duds that may come to mind. All winners receive a trophy, but usually they also get tickets for the WM Phoenix Open's R.S. Hoyt, Jr. Dream Day. Unfortunately, it's postponed this year due to fan restrictions at the tournament.
The connection between the Itty Bitty Open to the WM Phoenix Open is no coincidence. Everybody knows The Thunderbirds host "The People's Open," but most may not know they support junior golf in a big way, too. The Itty Bitty Open is a prime example. Funded by The Thunderbirds, the JGAA offers a full schedule of tournaments and events for boys and girls age 8-18. The Itty Bitty Open is simply the initial spark that illuminates their passion to learn and play well into their teens, if not for the rest of their lives.
The JGAA's sister organization – USGA/LPGA Girls Golf of Phoenix – also benefits from the cascade of kindness and charitable giving the WM Phoenix Open provides. Additionally, The Thunderbirds support The First Tee of Phoenix as well as sponsor locally held junior golf tournaments on the American Junior Golf Association's nationwide schedule of events.
In the golf world, an "Open" tournament signifies that anyone can give it a go. While that certainly holds true for the Itty Bitty Open, it's not quite that simple for the WM Phoenix Open. All professionals in the field require some sort of tour status to get in the field. For the Itty Bitty Open, let's just say The Thunderbirds give every kid a sponsor exemption.
Space is limited, sign up before January 11 deadline. For more information, call 602.944.6168.
Please register online:  https://jgaa.bluegolf.com/bluegolf/jgaa20/seminar/board/index.htm?
2021 Itty Bitty Open Locations
Chandler
Espee Park, 450 E Knox Rd, Chandler, AZ 85224
Gilbert
McQueen Park, 510 N Horne St Gilbert, AZ 85233
Glendale
Legend at Arrowhead Golf Club, 21027 North 67th Ave, Glendale, AZ 85308
Goodyear
Falcon Park, 15050 W Indian School Rd, Goodyear, AZ 85395
Maricopa
Copper Sky Multigenerational Center, 44345 W Martin Luther King Jr Blvd Maricopa, AZ 85138
Mesa
Jefferson Park, 306 S Jefferson Ave, Mesa, AZ 85208
Peoria
Rio Vista Community Center, 8866 W Thunderbird Rd, Peoria, AZ 85381
Scottsdale
Scottsdale Ranch Park, 10400 E Via Linda, Scottsdale, AZ 85258
Surprise
Surprise Stadium, 15930 N Bullard Ave, Surprise, AZ 85374
Tempe
Benedict Park, 490 W Guadalupe Rd, Tempe, AZ 85283