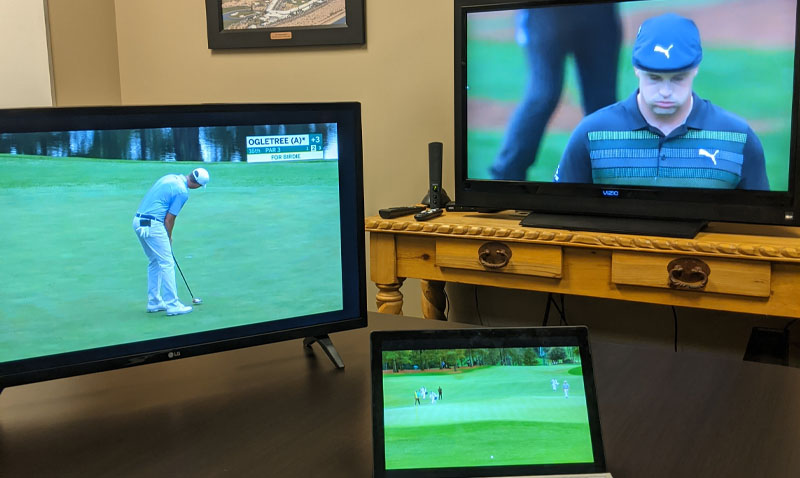 Here at Communication Links, we have a lot of pride in our work we do for the Waste Management Phoenix Open and the charities the tournament supports here in Arizona. But when we have our "golf fan" hats on, we'd be lying if we said we didn't love the Masters. We're not the only ones, obviously. The "tradition unlike any other" at Augusta National is near and dear to every golfer's heart, but while the love and emotional investment in the tournament is similar throughout the office, the personal connection to the event is different for everyone.
Yes, the lack of fans in the stands takes away from some of the mystique and aura associated with one of professional golf's greatest prizes, but the event coordinators have done a pretty darn good job keeping most of the traditions intact, despite the worldwide challenges which moved the tournament from April to November. One of our favorites, the Champions Dinner, went off without a hitch.
If we won the Masters – keep the laughter to a minimum, please – here's what some of the CL gang would serve that Tuesday.
Mike
Tennessee Barbeque theme throughout the dinner. Fried pickles to start followed by traditional Tennessee pulled pork with sides of baked beans, coleslaw and corn bread. For dessert, two options: banana pudding and pecan pie. Mike doesn't drink wine, so that will be BYOB, but there would be plenty of Tennessee Mash Whiskey known fondly as Old No. 7.
Woody
A continental masterpiece from Woody. Wedge salad with bacon and bleu cheese followed by bacon-wrapped jumbo shrimp to start. The main course would consist of Texas Ribeye, Dungeness crab and twice-baked potatoes and grilled asparagus spears for sides. Sundae bar and molten chocolate cake for dessert. And if you know Woody, you know he's serving Bud Light along with Bulleit Rye and an Oregon Pinot Noir.
Jerry
An Arizona theme for Mr. Rose, starting with a cup of real Arizona chili – both beans and beef. Main course would be Green Chili Beef Chimichangas (invented in Phoenix at the original Woody's Macayo's restaurant) served with beans and rice on the side. And, for dessert, Navajo fry bread with powdered sugar and honey. Oh, and plenty of tequila.
Dave
For hors d' oeuvre: grilled bacon wrapped scallops with a side spinach apple salad with warm balsamic dressing and walnuts. Surf and turf, venison medallions and lobster thermidor for the entrée with a side of green bean casserole. Cheesecake with guests' choice of fruit topping for dessert and a Silver Oak cabernet or Far Niente Chardonnay as a wine pairing.
Jonathan
A Mexico City staple for Jonny. Chile Relleno and Pozole to start followed by tacos al pastor and smoked red snapper. Sides of grilled corn and refried beans, a healthy dose of pico de gallo and shrimp tostadas. Like Tiger, a traditional flan for dessert and Anejo tequila to drink.