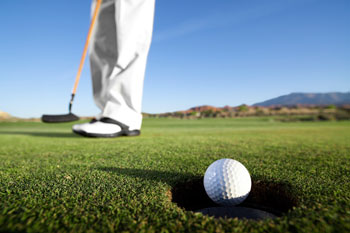 Holiday Golf Gift That's Better Than Fruitcake
Until one dives below the surface of the golf world, it's hard to appreciate the game's unique lifestyle, culture and language. This becomes glaringly obvious every holiday season when well-meaning loved ones sit down to make their gift list for the golfer in their life. They know that they hold a deep fondness for this mysterious pastime, spending hours playing, practicing and – strangely – even watching it on TV.

So it seems simple: give them golf gear for the holidays, but like the game itself, it's not that easy. First of all, forget about all those useless trinkets such as the suction cup that fits on the end of the putter. Forget about the extendable ball retriever. Forget about the wire-brush club cleaner. Forget about the personalized ball marks. In fact, unless the exact item is known, forget about golf gear in general. A gift card is a good way to get around this problem, but let's take a moment to consider what golfers really want: TO PLAY MORE GOLF. To do this they need access and time. The access part is easy; every golf club offers some sort of frequent-player card that allows golfers to play their favorite golf club at reduced rates.

Then, give him the time to play. This may mean that he won't always be available to, for example, take little Katy to her Build-a-Bear party on Saturday afternoon. Or maybe he won't be able to enjoy that Pretty Women movie marathon airing on the Lifetime channel. So be it. Unfortunately, the game does take time to play and practice. And of course, time is a valuable resource, but if the true intent is to give him what he really wants, look no further than giving the gift of golf.